Open Classroom for Creative Writing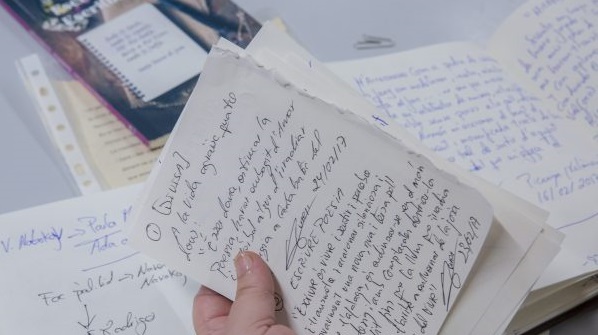 Schedule: From 27 september 2017 to 15 october 2017. Monday, tuesday, wednesday, thursday, friday, saturday and sunday at 00:00 to 00:00.
Place: AULARIO III Blasco Ibáñez
Description:
Open registration.
Annually, Universitat de València organises the open classroom for creative writing and Universitat de València Awards with the aim to promote the creative writing in the university field.
The workshops offer includes the following genres: brief narrative, theatrical writing, poetry and short film script. The awards are called in the same form. Both actions are related: On the one hand, the workshops are the formative tool to begin in literary creation. On the other hand, they they give young writers credit and its works.
Workshops' methodology of open classroom for creative writing is practical and participative and there are given by professionals of the different literary genres.
Enrolment
Enrolment will be open for the students and La Nau Gran participants from September 20, for the rest of public from October 2. In both cases, it will be closed October 15.
Recipients
This activity is thought for students of the UV, La Nau Gran and the general public. Consult the enrolment conditions.
Duration of the workshops.
The workshops have a duration of 20 hours distributed in seven meetings attend them from October until December, 2017.
Full programme 2017-2018
Workshops
Theatre Writing with Eva Zapico
Short Story in Spanish (1) with Carlos Aimeur
Short Story in Spanish (2) with Bárbara Blasco
Short Story in Valencian with Raquel Ricart
Spanish poetry with Bibiana Collado
Valencian poetry with Francisco Rodrigo
Short film Script with Pau Martinez
Certificates and academic recognition programmes
These workshops equate to 1 ECTS. To obtain the certificate it is necessary to attend to the all workshops. The absence must be properly justified and shall not be more than the 20% of the duration of the activity.
Organized by:
The Open Classroom for Creative Writing is organized by el Servicio de Información y Dinamización (SEDI) in cooperation with:
Vicerrectorado de Cultura e Igualdad
Aula de Lectura y Escritura
Aula de Poesía
Aula de Artes Escénicas
Aula de Cine
Facultad de Filología, Traducción y Comunicación.
Vicedecanato de Cultura.
https://nauest.blogs.uv.es/aula-oberta-descriptura-creativa-17-18-12a-edicio/
Contact: nauest@uv.es
More information: