Conference 'Gender equity for the right to health'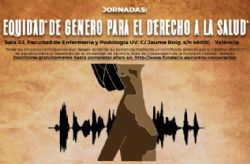 Schedule: From 16 october 2017 to 30 october 2017. Monday, tuesday, wednesday, thursday and friday at 09:00 to 14:00.
Place: Faculty of Nursing and Chiropody
Description:
The conferences will take place from the 16th to the 30th October at the Faculty of Nursing and Podiatry with the subtitle: 'The importance of gender equality and the respect of sexual and reproductive rights as determining factors for the health'. The programme includes: 1. Exhibition 'Wanawake' at the hall of the Faculty from 16th to 31st October. It shows through photographs the work of the Congolese organisation for women FEPSI and the NGO Farmamundi aid with the victims of sexual violence. 2. 'Anthropology, gender and right to global health' round table on Tuesday 17th October. Opening at 11:00 in charge of José Miguel Soriano, Principal for Cooperation and director of the UNESCO Chair for the Development Studies; Amparo Mañés, director of the Equality Unit; and Carmen Luisa Trullenque, delegate of Farmamundia at the Valencian Community. 3. Film forum on Tuesday 17th October. Projection of the documentary 'Temps d'Écoute', which breaks the cliché that women and African societies are poor, without initiative and non-participating. 4. Stage play of the oppressed ones 'Gender and health'. Workshop to explore the concepts of the right to health and gender equity. Coordinated by: Isabel Martínez, full university professor at the Faculty of Nursing and Podiatry. Admission is free. In order to obtain a certificate to show proof of the attendance from the UNESCO Chair for Development Studies it is necessary to register. Free registration in www.fundaciouv.es/cursos-cooperacion
Organized by:
Càtedra UNESCO d'Estudis sobre el Desenvolupament y Facultat d'Infermeria i Podologia, con la colaboración de la Fundació General de la Universitat de València y la ONG Farmamundi.
Contact: catedra.unesco@uv.es
More information: